The Author for this Article is :-
Logan Brinsmead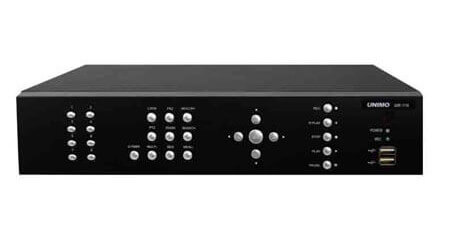 This is the UNIMO UDR-7104 Standard Series 4 Channel DVR. It has a fully functional front control panel with stylish silver raised buttons for ease of use. This unit is also fitted with two front USB ports to assist with both mouse control and backing up of the recorded footage.
This model of UNIMO DVR has the H.264 compression with D1 recording. This model is fitted standard with a AV-1000GigB Hard Disk Drive for long term storage. The backup ability for this UNIMO is via the available USB ports and/or the network connectivity. There is a mobile App available to view both live and recorded video. These UNIMO DVRs are Korean manufactured and supported for a total of 2 years.
Specifications



---
The Specifications and Features for the UNIMO UDR-7104 are as follows. It has the Advanced H.264 D1 Recording and Playback, with dual streaming on a network connection. Live display, record, playback, backup and network simultaneously. A high resolution VGA output, there is 1 main BNC composite output. Real time live viewing and recording at D1 at 100fps. There are 2 USB ports for both backup and full mouse control support. Multiple speed playback and frame by frame playback via the mouse or front control panel. Extended storage via the SATA HDD storage with one HDD capable of 2TB and over. Smart device support via the provided App, with control over live viewing, playback and PTZ control. IR control and mouse control over all functions of the UNIMO DVR. CMS is available for up to 128 cameras. The UNIMO UDR-7104 4 channel DVR is manufactured in Korea and comes from new with a 2 year (24 month) Warranty.